Do you need a license to operate a forklift?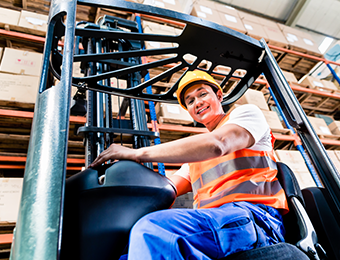 The simple answer – yes.
Forklifts (or forklift trucks) are used across a wide range of industries including warehousing, construction, and manufacturing. These industrial trucks are designed to lift and move heavy loads over short distances. Forklift operation in Australia requires all forklift drivers to be licensed operators, so forklift training is vital for an employer who wishes to hire you as a forklift driver.
In order to operate forklifts, you will need to be trained in the use of forklift trucks. Then pass an assessment and apply for a license. In Australia, this license is commonly known as the LF Forklift License. It allows license holders to legally operate any forklift with a mast, regardless of weight capacity. There is also an LO Forklift License which only allows the operator to drive an order picker/stock picker forklift.
The course will involve both theory and practical assessments and will generally run over 3 days. Workplace health and safety authorities Australia-wide have ensured the training and assessment model is thorough to ensure all participants are up-to-date with the latest workplace practices.
Before obtaining your forklift license, you will need to do some research to find out which forklift license you need and which course provider will benefit you the most.
Choosing the right forklift license provider
A forklift license is one of the most versatile qualifications obtainable for those seeking employment. It's no secret that those with a forklift license are more valuable to an employer and in just three days, this qualification can be easily achieved. Before applying for your forklift license, there a few questions that you should consider asking the course provider. Make sure your course provider is certified, ensure they offer the relevant course to the work you want to do, find out how long they have been in business, ask what machinery are you able to be trained on, and look up the cost and duration.
What to expect during the course
The process of training consists of three parts:
Theory training – this is where you will learn the workplace safety essentials for operating plant and machinery, as well as identifying and managing hazards in the workplace
Practical training – this is where you will learn the to operate and drive the forklift, as well as vehicle stability and control
Assessment – this is where what you have learned in theory and practice is combined. This is a formal closed book assessment, where correct answers must be provided. Assessors have some flexibility in marking to allow verbal clarification where required, depending on how critical the section is.
Requirements:
Licensed operators of forklift trucks in Australia need to be 18 years of age or over, have a basic understanding of the English language and be able to provide 100 points of ID (including something with a photo). Once you have completed the final assessment successfully, you are required to lodge and register your license online within 10 days with Workplace Health and Safety Queensland.
Frequently Asked Questions (FAQ's)
How much will the course cost?   Depending on the number of participants and previous experience, the course will range in cost from $395- $550. Payment plans are also offered for flexibility.
What is the duration of the course?   For those with no previous forklift driving experience, the course will take place over 3 days. There is also a 1-day course for experienced forklift drivers who do not hold a current Australian forklift license.
What is the success rate of the course provider?   One Stop Training pride themselves on their success rate and aim to deliver the best possible outcome for every trainee.
What is the class size?   The class size ranges from a single trainee up to seven participants.
How long has the course provider been training forklift operators?   One Stop Training has successfully trained over 14,000 students since 2008.
How flexible are the training times?   You are able to fit in your study around your current work schedule by training during the day, evenings and weekends.
One Stop Training is your only stop!
One Stop Training provides a range of forklift license courses to suit your individual needs, from beginners to advanced users. They support all of their students throughout the training and licensing process by providing easy to understand training material and hands-on training opportunities. Their sites across Brisbane and the Gold Coast mean everyone has a One Stop Training facility nearby. They also offer on-site and group training for business owners wanting to take their team to the next level.
Please take into account the following points as to why One Stop Training is your only stop when thinking about forklift training:
– You gain access to friendly, accredited trainers
– All training and learning materials are provided, including pre-study materials
– The course is easy to understand with flexible instruction
– They provide top-class training facilities
– You will learn the operation of specific on-site machinery types and brands
– They are WH&S compliant including site hazard management
– Train in Ashmore, Murarrie, Eagle farm or Wacol
– Enjoy spacious undercover all weather facilities for practical training
– Learn theory in separate, air-conditioned classrooms
– Take advantage of on-site and group training options
– Get there easily with public transport + lunch near all sites
– Combine high student satisfaction rating with excellent course results
Keen to open new doors?
Learn from an experienced forklift license provider. For more information on forklift training at One Stop Training, download out Forklift Course Guide.
---
Call into one of the One Stop Training offices and complete your application form in person or call us during business hours to discuss other options on: 1300 556 387
Wacol
5/17 Tile Street, Wacol, Queensland, Australia
Murarrie
11/53 Metroplex Avenue, Murarrie, Queensland, Australia
For more information about our training courses, contact us today: