Fake Jobs – Don't Lose Your Training Funding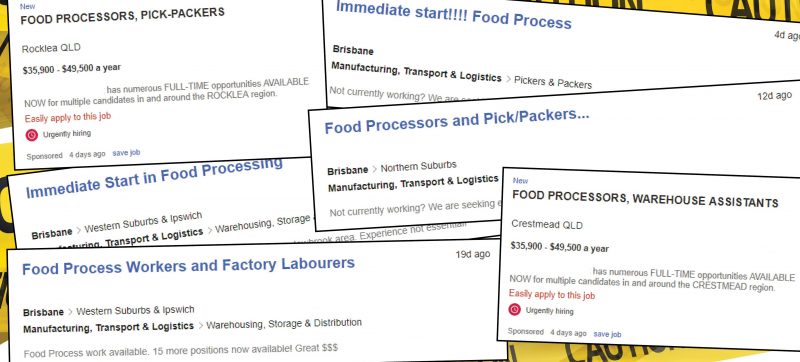 Ads look familiar? Are they real?
You get ONE opportunity for Government Funded Training. Don't lose it on the promise of a job that may not exist.
Hundreds of people we speak with have been applying for jobs online, then end up in a training course.
They may have been sent to a "free training course". Namely government-funded free training. In addition, they may have been told the training is needed to get the job.
Sometimes they are told they will also get a free Forklift Course.
In case you don't know, the pattern is:
you apply for a job and submit your resume
a call comes in and says to get that job you need a free training course
therefore you go to the training company
by a recruitment or labour hire company you never applied to
that you can't find any information on
for a course that you didn't want to do
you do the Certificate III course
you try and book a forklift course
phone calls and emails go unanswered
however, the job is being advertised online again
why won't anyone call me back?
what happened to the job at the end of the course?
what happened to the forklift course?
Why the same?
Notice that the jobs all look the same, just in different suburbs?
different companies
offering the same jobs
same multiple locations
These jobs being advertised are strangely identical to the Government Funded Training Courses. Curious isn't it..?
Consider asking yourself:
why does a recruitment company want to do this?
additionally, why does this company I have never heard of want to do this for me?
are they being so nice? Maybe they just want to help me out
also, why would they offer me all this for nothing?
What can I do?
One minute you're applying for a job – next minute you're in a course.
ask for that 'job guarantee if you do the course' in writing
look online and see if you can find details on the company you are applying to
think twice when offered something for nothing
think twice before you send in your resume with your personal information
If you are applying for a job, look at who you are applying with.
Therefore if you are looking for training, speak to a training provider – a registered training organisation so you can make an informed decision about your education. This will allow you to make the most of your ONE opportunity at government-funded training assistance.
Don't be another victim of Fake Jobs. One Stop Training is an actual Registered Training Organisation. Not a 'training co-ordinator', or someone working for a labour hire company.